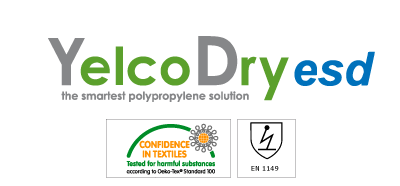 The range of YelcoDry esd protective knitted fabrics is projected to improve the comfort performances of garments worn for long time or in uncomfortable environmental conditions.
Polypropylene in the inner layer in contact with the skin to guarantee high performances of comfort
and to avoid unpleasant odours even after many hours of use;
Cotton and Conductive Fibers in the outer layer to guarantee antistatic performances,
the absorption capacity and to keep the chance to customize the colour.
YelcoDry esd protective knitted fabrics comply with the standards:
EN 1149 ◊ Oeko-Tex® Standard 100 Class II.
CODE
KNIT
WEIGHT
WASHING
MINIMUM DYEING

PP8273 NEW
piquet
Double Knitted
180 g/sqm
40 °C
250 m/l
PP8270
piquet
Double Knitted
210 g/sqm
40 °C
250 m/l
to be
certified
PP8272
piquet
Double Knitted
170 g/sqm
40 °C
250 m/l