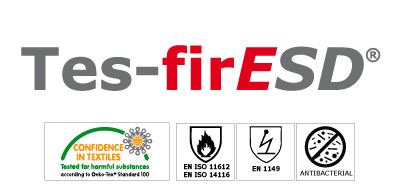 The range Tes-firESD® combines flame retardant and antistatic performances.
Tes-firESD® protective knitted fabrics comply with the standards:
EN ISO 11612 ◊ EN ISO 14116 ◊ EN 1149 ◊ Oeko-Tex® Standard 100 Class II.
Some of these articles are certified for welding protection EN ISO 11611
and Industrial Washing EN ISO 15797.
CODE
KNIT
WEIGHT
WASHING
MINIMUM DYEING

I0990 NEW
interlock
230 g/sqm
40 °C
250 m/l
T7144
jersey
160 g/sqm
40 °C
300 m/l
J7367
jersey
160 g/sqm
40 °C
300 m/l
J7366-FF
jersey
200 g/sqm
40 °C
250 m/l
B9144
rib

245 g/sqm
40 °C
dyed with fabric
P9350
piquet
215 g/sqm
40 °C
250 m/l
P9350-FF
piquet
215 g/sqm
40 °C
250 m/l
P9360-FF
piquet
240 g/sqm
40 °C
250 m/l
C9350
polo collar
and sleeve lists
x
40 °C
dyed with fabric
B400
costina
285 g/sqm
40 °C
dyed with fabric
to be
certified
to be
certified
C400
polo collar
and sleeve lists
x
40 °C
dyed with fabric
F9501
sweat
360 g/sqm
40 °C
200 m/l
B9501
rib

420 g/sqm
40 °C
dyed with fabric
F9502-FF
sweat
300 g/sqm
40 °C
200 m/l
F15797
sweat
375 g/sqm
75 °C
tumbler 90 °C
200 m/l
B15797
rib

350 g/sqm
40 °C
dyed with fabric
FC75
sweat
250 g/sqm
40 °C
250 m/l
B300
rib
420 g/sqm
40 °C
dyed with fabric
WS900 compound
fleece with membrane
340 g/sqm
40 °C
200 m/l