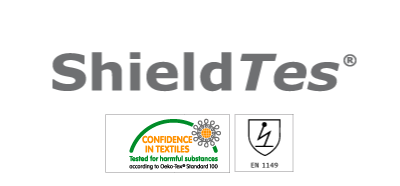 The range ShieldTes® guarantees antistatic performances. Fabrics are Single and Double Knitted.
SPINCOIL technology allows to dissipate electrostatic charges via continuous yarn containing antistatic fiber. The result is an excellent dissipative capacity of the fabric that persists even after several washing and drying cycles.
ShieldTes® protective knitted fabrics comply with the standards:
EN 1149 ◊ Oeko-Tex® Standard 100 Class II.
Some of these articles are EN 61340 certified.
CODE
KNIT
WEIGHT
WASHING
MINIMUM DYEING
J7152 NEW
jersey
180 g/sqm
40 °C
300 m/l
J7143
jersey
160 g/sqm
50 °C
300 m/l
J7150
jersey
160 g/sqm
40 °C
300 m/l
B7143
rib
220 g/sqm
40 °C
dyed with fabric
P8267-M
Melange
piquet
210 g/sqm
40 °C
250 m/l
C8267-M
Melange
polo collar
and sleeve lists
x
yarn dyed
to be
certified
P8267.170 NEW
piquet
210 g/sqm
50 °C
250 m/l
P8267C
piquet
210 g/sqm
50 °C
250 m/l
P8269C
piquet
210 g/sqm
40 °C
250 m/l
C8267C
polo collar
and sleeve lists
x
40 °C
dyed with fabric
P1996
piquet
Double Knitted
200 g/sqm
40 °C
300 m/l
C1996
polo collar
and sleeve lists
x
40 °C
yarn dyed
minimum dyeing
quantity 500 pieces
to be
certified
F4996
sweat
Double Knitted
325 g/sqm
40 °C
250 m/l
B4996
rib
320 g/sqm
40 °C
yarn dyed
minimum dyeing
quantity 100 meters
F4997
sweat
Double Knitted
325 g/sqm
40 °C
250 m/l
E246-M
Melange
fleece
265 g/sqm
40 °C
200 m/l
E246
fleece
265 g/sqm
40 °C
200 m/l
E240
fleece
235 g/sqm
40 °C
200 m/l
E243
fleece
265 g/sqm
40 °C
200 m/l
WS128-ESD compound
fleece LOW PILLING
+ PTFE Membrane+Lining
235 g/sqm
40 °C
300 m/l