Italian protective fabrics producer Argar Technology, a division of Argar S.r.L, will be showcasing its range of innovative products and announcing its ISO 9001 Certification at this year's A+A Safety, Security & Health at Work 2015 (Hall 3 Booth F35-4), which takes place in Dusseldorf, Germany from 27-30 October 2015.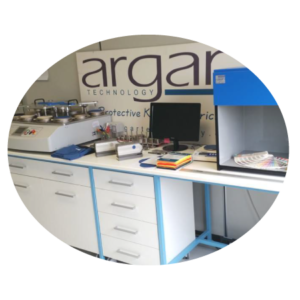 ISO 9001 Certification
The Busto Arsizio based manufacturer has recently gained ISO 9001 Certification and is looking forward to meeting both existing customers and potential new customers at the show and offering them even better quality than before under its new certification status.
ISO 9001 is a certified quality management system (QMS) for organisations who wish to prove their ability to consistently provide products and services that meet the needs of their customers and other relevant stakeholders.
Newly expanded R&D and Quality Laboratories
The innovative Italian manufacturer has also expanded its Quality and R&D laboratories with the installation of new testing equipment, including new spectrophotometers, new generation Color Assessment Cabinet and Martindale testers, which are used widely for testing the abrasion resistance and pilling properties of textiles.
Rapid response and reliability
The company manufactures a wide range of single and double knit fabrics and accessories which are aimed at personal protective equipment (PPE) markets. Argar is based in the Varese area of Northern Italy's industrial heartland and combines intensive research and development activity with rapid response and reliability to approach its chosen markets – protective workwear, sportswear and garments for other technically demanding applications.
"Argar does not restrict its market approach to fielding the constant flow of new fabric development enquiries which arise from the needs of continuously evolving PPE market. Instead the company has the main goal of creating new development opportunities, by reading and anticipating future trends," say Umberto Negri, Owner / General Manager and  Lorenzo Ferrario, Sales and Marketing Manager of Argar.
Ferrario explains that this carefully calculated approach creates new market opportunities for Argar's partners and that the company's proactive and visionary outlook creates new proposals – with constant communication being one of its essential marketing strategy tools.
Made in Italy
Argar guarantees its knitted fabrics, which are fully manufactured and ennobled in Italy and mostly have European Preferential Origin. The few items of the standard collection which have no Preferential Origin Status can be manufactured with Preferential Origin upon Customer's request.
"Until a few years ago Argar Srl was like many Italian textile producers, swimming against the tide in a traditional mature market. However, inspired by the latest knitting and finishing technologies and stimulated by a strong desire to innovate, the company invested both high levels of energy and financial resources in the search for new horizons," says Argar's Sales & Marketing Manager Lorenzo Ferrario.
Argar Technology was founded upon the concept of creating a completely localised manufacturing system embracing efficiency and the highest level of quality control against a competitive backdrop of low tech and low quality imports. In other words, the company set out to make high quality innovative products which carried the 'Made in Italy' name.
Knitted accessories
According to Argar, the manufacturing of textile accessories for garments is its wildcard in the market place. The company manufactures a wide range of fully certified trims and accessories for protective clothing including: polo collars; short sleeve polo lists; long sleeve polo cuffs; waist bands; cuffs; collars for sweats and jackets and all kinds of custom made accessories.
Further reading
Argar Technology develops new range of protective knitted fabrics